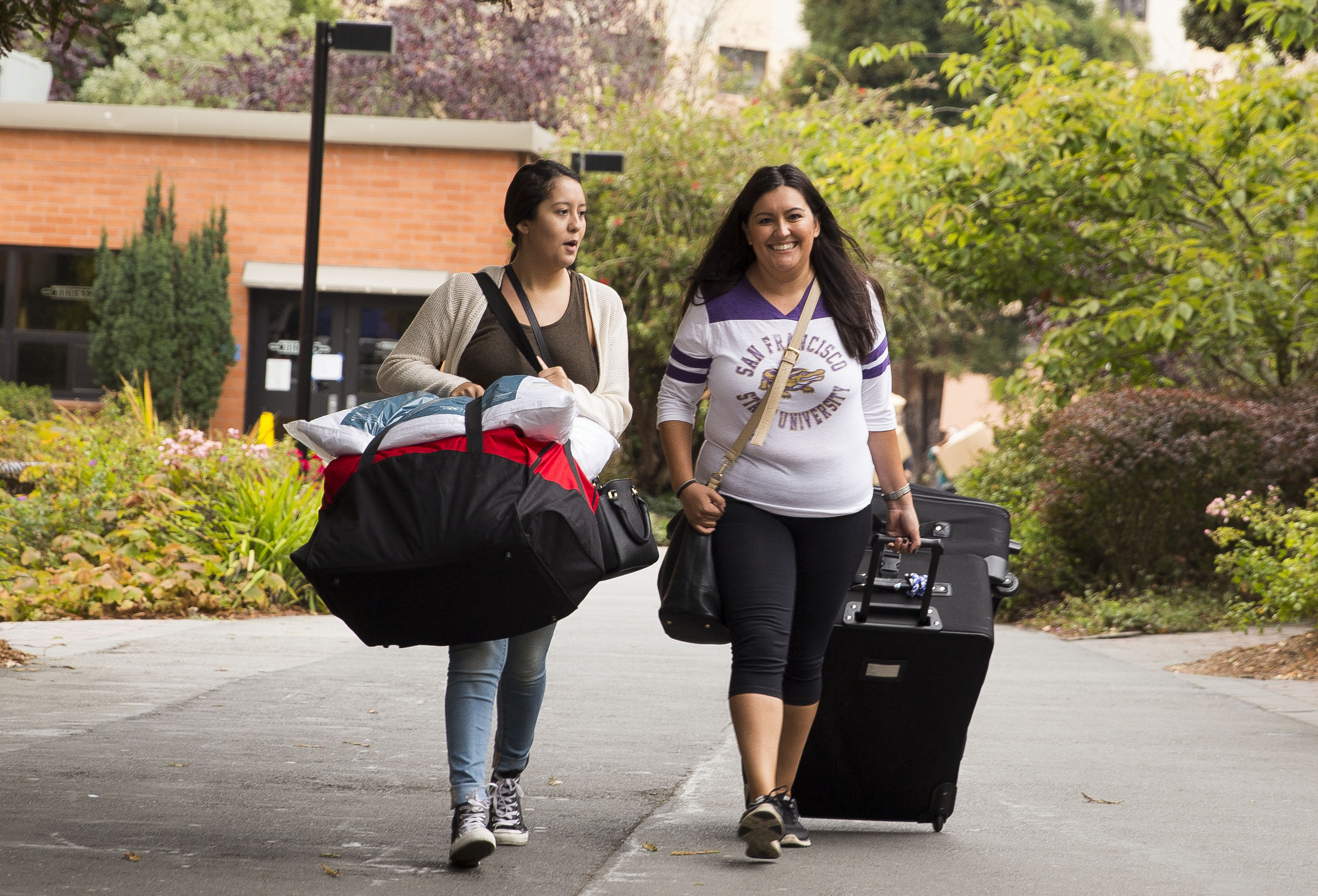 To help ensure that your move-in is as smooth and efficient as possible, carefully review the below information prior to your Move-in Day. It is important to familiarize yourself with the move-in process as well as the check-in location and unloading area specific to your building as the process and locations for each building differs. We also recommend that you also check traffic conditions on the day of your move to ensure thatyou arrive at your scheduled move-in time.
WHEN TO ARRIVE
Move-in days are on Wednesday and Saturdays between 10 AM & 6 PM.
CHECK-IN
Check in at the designated community desk for your building.
Towers at Centennial Square (TCS) & Towers Junior Suites (TJS) 
796 Font Blvd. | (415) 405-9360
Village at Centennial Square (VCS) 
750 Font Blvd. | (415) 405-8000
Manzanita Square (MSQ) & University Park South (UPS) 
2 Varela Ave. | (415) 338-0510
University Park North (UPN)
295 Buckingham Way | (415) 566-1556
ITEMS NEEDED AT CHECK-IN
Identification | Your SF State ID –OR– Check-in Pass and a government-issued ID.
Health Screening | Your "Green badge" confirmation (printed or on your phone) from your health screening taken prior to arriving to campus on your move-in day via the SF State mobile app. 
Check-in Pass & Assignment Letter | Printed or on your phone.
YOUR MOVE-IN PACKET WILL CONTAIN
Your apartment keys and a Resident Information Card with various key codes
A Room Condition Form to document any damages
Your SF State ID (if applicable)
Your 2021 Housing parking permit (if applicable)
UNLOADING
MSQ, UPN & UPS | Any available street parking. 
ALL OTHER HOUSING | Lot 20 on State Drive. (Paid parking. Visit the 'Parking' page for more information.)
Please Note: Be sure to pay attention to any parking restrictions or time limitations. SF State will not be responsible for any parking violations.
COVID-19 SAFETY PRECAUTIONS
If you or your move-in guest(s) is feeling sick or displaying symptoms of COVID-19, do not come to campus. Contact the Student Housing Office at housing@sfsu.edu to reschedule your move-in.
 Wear a face covering at all times during Move-in.
 Manage your distance when around others.
 Wash your hands after touching common surfaces.
IMPORTANT REMINDERS
Only 1-2 move-in guest(s) per resident is allowed.
Only 1 vehicle per resident may move through or park in the unloading area.
Family members or friends cannot check-in for you.
Due to a max clearance of 6'8", large trucks, trailers, or recreational vehicles cannot be accommodated.

Do not come to Move-in with an ESA/service animal unless you have received pre-approval from DPRC and completed the ESA addendum.