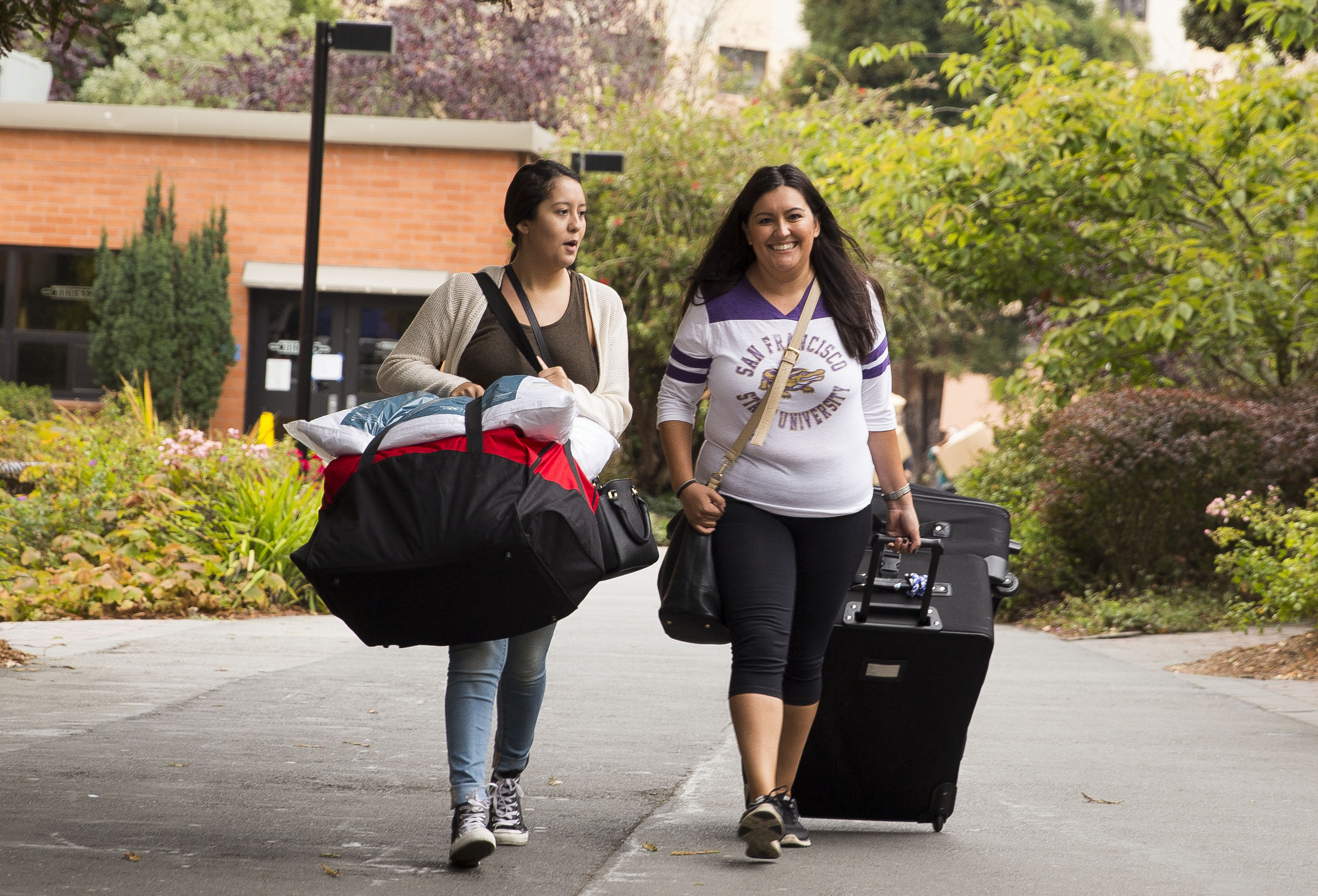 To help ensure that your move-in is as smooth and efficient as possible, carefully review the below information prior to your Move-in Day. It is important to familiarize yourself with the move-in process as well as the check-in location and unloading area specific to your building as the process and locations for each building differs. We also recommend that you also check traffic conditions on the day of your move to ensure that you arrive at your scheduled move-in time.
WHEN TO ARRIVE
To minimize risk and allow for greater physical distancing, residents have been assigned a specific timeslot to move in (sent to your SF State email account). Please do not arrive any earlier or later than your scheduled time.
If you arrive earlier than your scheduled time, you will be required to wait until your designated time. If you arrive later than your scheduled time, you may need to wait until move-in staff can accommodate you. Wait time could range from 6-8 hours. 
AFTER HOURS MOVE-IN | If you have been pre-approved to move-in after hours, you may pick up your keys at your community desk (see the desk information on the right side of this page). Please email the Student Housing Office with your planned arrival time.
CHECK-IN & UNLOADING
Location: 750 State Drive (Lot 19) | MAP
At Check point 1:
From State Drive, enter Lot 19 and drive to the first check point.
Present the items listed below to Move-in staff.
Guests: answer health screening questions.
Receive an unloading hang tag (UPN & UPS residents only), map to the unloading area and health clearance wristbands for your and your guest.
Proceed to check point 2 when directed by Move-in staff.
ITEMS NEEDED AT CHECK-IN
**Please have all items ready to show to Move-in staff when you arrive.
IDENTIFICATION
Your SF State ID –OR– Check-in Pass and a government-issued ID.
PROOF OF NEGATIVE COVID-19 TEST RESULTS
Test result must be no older than 72 hours from when the test was taken.
FUTURE COVID-19 TEST APPOINTMENT CONFIRMATION
All new residents are required to take an additional COVID-19 test on campus between February 14 and February 17, 2022. Visit health.sfsu.edu to register and have the appointment confirmation available to show at check-in.
HEALTH SCREENING
Your "Green badge" confirmation (printed or on your phone) from your health screening taken via the SF State mobile app on Move-in Day prior to arriving to campus. A wrist band indicating a passed health screening will be provided to you and your guests and will need to be worn during the remainder of the Move-in process.
At Check point 2:
Receive your keys and Move-in packet.
YOUR MOVE-IN PACKET WILL CONTAIN:
Your apartment keys and a Resident Information Card with various key codes

A Room Condition Form to document any damages

Your spring 2022 housing parking permit (if applicable)
Location: See chart below
After receiving your keys, follow the map to the unloading area for your community and park your vehicle. 
UPN & UPS residents only | Fill out the unloading permit you received at check-in and place it in your vehicle according to the instructions on the permit. Parking in the unloading area is restricted to 1 hour.
Check out a moving bin (all communities except UPS).
Unload your belongings.
After unloading, move your vehicle to one of the lower levels of Lot 20. MSQ, UPN & UPS residents may also park in any available street parking.
Residential Community

Unloading Location

MANZANITA SQUARE (MSQ)

9 Cardenas Ave. | MAP

MARY WARD HALL (MWH)
TOWERS AT CENTENNIAL SQUARE (TCS)
TOWERS JUNIOR SUITES (TJS)
VILLAGE AT CENTENNIAL SQUARE (VCS)

Top level of Lot 20 | MAP

UNIVERSITY PARK NORTH (UPN)

225/235 Buckingham Way | MAP

UNIVERSITY PARK SOUTH (UPS)

Move-in designated parking space near your building | MAP
REMINDERS
Only 1 vehicle per resident may move through or park in the unloading area.
Parking is free in Lot 20 during Move-in.

Due to a max clearance of 6'8", large trucks, trailers, or recreational vehicles cannot be accommodated in Lot 20.

Pay attention to any parking restrictions as SF State will not be responsible for any parking violations. 
MOVING BIN CHECK-OUT
Moving bins will be available for check-out at the location indicated on your 

map

 to make it easier for you to move your belongings. You are also welcome to bring small moving equipment, such as hand trucks or dollies.

To check out a bin, you will need to provide your SF State ID or government-issued ID. Your ID will be returned to you when you bring your bin back to the bin check-out area.

Up to 2 bins can be checked out for a maximum of 1 hour. There is an $85 charge for any bins that are not returned.
COVID-19 SAFETY PRECAUTIONS
If you or your move-in guest(s) is feeling sick or displaying symptoms of COVID-19, do not come to campus. Contact the Student Housing Office at housing@sfsu.edu to reschedule your move-in.
 Wear a face covering at all times during Move-in.
 Manage your distance when around others.
 Wash your hands after touching common surfaces.
IMPORTANT REMINDERS
Due to safety reasons, only 1 guest per resident may help with move-in. Guests will need to pass a health assessment at check-in.
A family member or friends cannot check-in for you.
Do not come to Move-in with an ESA/service animal unless you have received pre-approval from DPRC and completed the ESA addendum. 
COMMUNITY DESKS
CENTRAL NEIGHBORHOOD 
TCS | 796 Font Blvd. | (415) 405-9360
VCS | 750 Font Blvd. | (415) 405-8000
NORTH NEIGHBORHOOD
UPN | 295 Buckingham | (415) 566-1556
SOUTH NEIGHBORHOOD
MSQ |2 Varela | (415) 338-0510
YOUR SF STATE ID
Your SF State ID card is needed for check-in on Move-in Day. If you have not yet received your SF State ID, you can use a government-issued ID to check-in, but you should request your ID as soon as possible. To request your SF State ID and for pick-up location information, visit onecard.sfsu.edu.